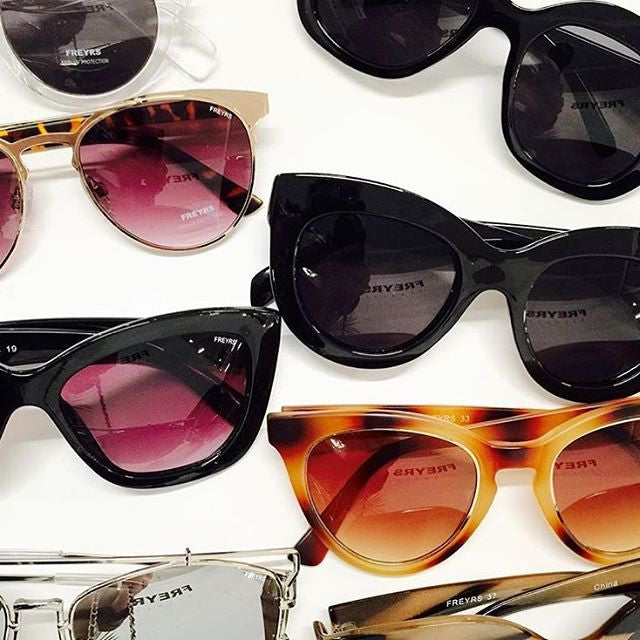 Top 5 Eyewear Trends for Spring/Summer 2016
1: Oversized sunglasses remain bang on-trend

Where your eyewear is concerned, big, is most definitely best this Spring/Summer and, the expectation is that this trend will continue into the fall/winter, too.
Oversized Margot Sunglasses as seen in Tatler UK
2: Dark lenses

Here at FREYRS we're all about choice, but we know a trend when we see one, and dark lenses remain the fashion followers go to shade of choice - But don't be scared to mix it up. After all; variety is the spice of life ;)
Madison unisex sunglasses in matte black finish with dark, category 3 lenses.
3: Style Combinations

Girls love the cat eye, as it's timeless, sexy shape helps to emphasise their femininity, and round sunglasses, well, they're just too cool! So why not combine the best elements of both, to create one all singing, all dancing, pair of sunnies? #aheadofthecurve ;)
Luna round cat eye sunglasses as seen in Siempre Mujer
4: Aviators for all

The go-to style that never dies remains as popular as ever and, when coupled with oversized design, can make for an awesome, standout pair of sunglasses!
Barry Unisex Aviator Sunglasses
5: Detailing

It's all in the detail… From floral embellishments to futuristic effects, hues and gradients. If you're looking to express your individualism (through your eyewear) there's never been a better time to do so ;)
Coco Funky Sunglasses
Check out some of our recommendations above, and (if you've not already done so) don't forget to follow us on Twitter & Facebook :)